Discussion Starter
·
#1
·
Source
Best Bosmans: Sportsmail's guide to the top out-of-contract players available for YOUR club to sign this summer
With the summer transfer window almost upon us, managers across the country will be getting their calculators out to see who they can afford to sign.
One way to keep within budget is to find some bargains among the out-of-contract players available on Bosman free transfers.
Here, Sportsmail does the hard work for Premier League scouts and selects the looks the best players available across the continent.
MICHAEL OWEN
Newcastle United
Age: 29 Position: Striker
Due to the turmoil at the club, the England star has delayed making a decision on his future until the end of another injury-plagued season.
But he has indicated that if Alan Shearer becomes manager permanently he would be very tempted to stay.
If he were to look elsewhere he would have plenty of choice, with Everton, Tottenham and Manchester City all believed to be interested. But with his injuries and form problems he may have trouble attracting the offer he would desire from a Champions League club.
Karim Haggui
Bayer Leverkusen
Age: 25 Position: Centre back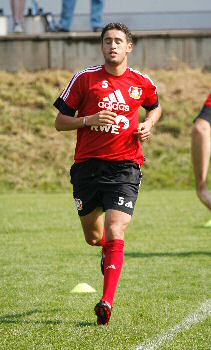 The Tunisia international is renowned as one of the best defenders in the Bundesliga, but has been relegated to the bench this season by the arrival on loan of Barcelona centre back Henrique.
His agent has confirmed he will not be renewing his contract and is looking at a move to England. West Ham, Blackburn Rovers, Portsmouth and Newcastle United are all believed to be interested.
Carlos Kameni
Espanyol
Age: 25 Position: Goalkeeper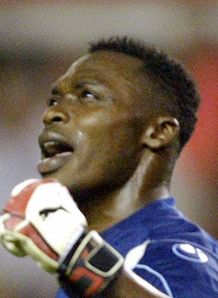 The Cameroon star is almost certain not to renew his contract with the Spanish side after a training ground bust-up with a fan earlier this season. But the penalty-saving expert is highly rated and, if he were not out of contract in the summer, would cost any suitor the best part of £10m.
Unusually for a goalkeeper, he is very experienced despite his young age, having won an Olympic gold medal aged just 16. Blackburn Rovers and Tottenham Hotspur will be interested but so are Barcelona and Bayern Munich.
Daniel Sturridge
Manchester City
Age: 19 Position: Striker
Sturridge, the nephew of former players Dean and Simon, is considered a hot property at Eastlands but looks set to leave this summer after a protracted contract dispute.
He was reported to have turned down a final £30,000-a-week contract offer from manager Mark Hughes, apparently demanding an eye-watering £75,000 a week. That's quite a wage for a teenager, but there's no doubting his talent.
He has scored six goals in only 12 starts in his career so far, including a brilliant strike against Sheffield United in the FA Cup 5th round last season to open his account. He can leave at the end of his current deal in June, although as he is under 24, Manchester City will probably be eligible for a fee from a tribunal. Aston Villa and Chelsea are reportedly interested.
Maniche
Atletico Madrid
Age: 31 Position: Midfielder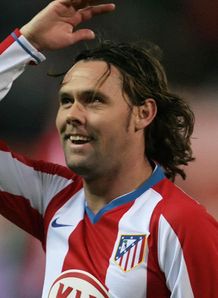 The former Chelsea ball winner looks set to leave Madrid after refusing the club's offer of a new contract. The seasoned international, who has 49 caps for Portugal, has had a poor season and manager Abel Resino has left him out of the team in recent weeks.
But the star, whose CV also includes spells at Benfica, Porto and Inter Milan, still has a lot to offer and Sunderland boss Ricky Sbragia is believed to be interested.
Diego Lugano
Fenerbahce
Age: 28 Position: Centre back
The uncompromising Uruguay defender is seen as the best in the Turkish league. Committed and with a tough streak that sometimes spills over into aggression, he is an excellent reader of the game and is also a regular scorer from set pieces.
He is being tracked by AC Milan, Juventus, Roma and Atletico Madrid and, despite hinting he would be happy to stay at Fenerbahce, a move to foreign climes seems almost inevitable.
Marko Pantelic
Hertha Berlin
Age: 30 Position: Striker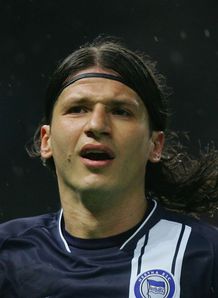 The Serbia striker, who has 44 goals in 107 Bundesliga games, has already been forced to deny he has signed a pre-contract agreement with Fulham. But the Premier League remains a likely destination for the former Paris Saint Germain and Celta Vigo star, with Everton and Middlesbrough also said to be interested.
The player, who has a reputation as both an expert goal poacher and a temperamental hot-head, has been out of favour with manager Lucien Favre this season, starting only 19 league games.
Yohann Pele
Le Mans
Age: 26 Position: Goalkeeper
The 6ft 5in stopper has broken into the France squad this season after a decade with Le Mans and a move to a big club could see his international opportunities increase. Another player who is likely to leave, at least in part, because of disputes with his club.
Manager Daniel Jeandupeux criticised his decision to miss two games earlier this season because of a calf injury as a weak excuse.
According to his agent, Arsenal, Portsmouth, Newcastle and Tottenham (along with most of the rest of Europe) are interested.
I haven't seen all of these players in action, so I don't know how good some of them are. Would you like to see any of these players here?

I've said a couple of times I'd wouldn't mind seeing Sturridge here. I think he's a good young player, and has the potential to be a great player. There would be some stumbling blocks mind you, such as he might be reluctant to move from City to United or we might not be able to offer him the amount of football he wants, but I think we should look into it nonetheless.

I've also heard some good things about Kameni (I've only seen him a couple of times) but I'm sure someone who knows about him will fill me in about how good he is
.