Discussion Starter
·
#1
·
Tosic granted work permit
http://www.manutd.com/default.sps?pagegid={B4CEE8FA-9A47-47BC-B069-3F7A2F35DB70}&newsid=6623328
Manchester United have secured a work permit for Zoran Tosic.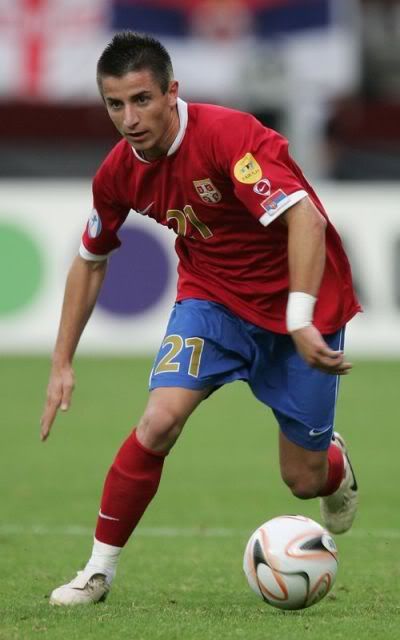 The 21-year-old Partisan Belgrade winger was linked with the Reds in various UK papers last weekend and the club can now confirm the application for his work permit has been successful. No transfer can be completed until the January transfer window.
Tosic, a dead-ball specialist, has played 12 times for Serbia.
From Setanta:
United get green light for Serb
http://www.setanta.com//uk/Articles/Football/2008/11/28/Premier-League-United-sign-Tosic/gnid-29279/
Serbian starlet Zoran Tosic has been granted a work permit ahead of his reported £8 million move from Partizan Belgrade to Manchester United.
The winger, 21, wUnited get green light for Serbill now join Sir Alex Ferguson's ranks at Old Trafford even though his current club insisted only two days ago that they had had no contact with the English champions.
The Serbia international does not fulfil the strict work permit criteria but the club have successfully argued at an Independent Review Panel hearing in Sheffield that they should be permitted to sign the player.
Tosic already has 12 caps for Serbia and has seemingly been granted the necessary paperwork on the basis that he boasts outstanding potential.
The Partizan star is expected to be a long-term option to replace the ageing Ryan Giggs at Old Trafford.
From Wikipedia:
Zoran Tošić
Zoran Tošić (Serbian Cyrillic: Зоран "Бамби" Тошић) (born 28 April 1987) is a Serbian football player currently playing for FK Partizan in Serbia as an attacking midfielder or winger.
Tošić is nicknamed Bambi due to his lean build.
Club career
Born in Zrenjanin, SFR Yugoslavia, Tošić began his football career with Proleter Zrenjanin, before joining Budućnost Banatski Dvor midway through the 2005–06 season. Those two teams later joined to form FK Banat Zrenjanin, now playing in the Serbian Superliga. In 25 appearances for Banat, Tošić scored two goals, and in doing so helped his team avoid relegation.
Tošić's performances both on the domestic scene with Banat and on the international scene with Serbia earned him glances from many clubs across Europe. On 6 August 2007, Tošić signed a four year professional contract with FK Partizan. He has since then been a standard member of the team.
On 22 November 2008, the Daily Mail claimed a deal had been agreed with his club for the midfielder to join Manchester United in the January 2009 Transfer Window. The deal is also subject to a successful work permit application as the player has not played the required 75% of his country's matches in the last year. On 28 November, there were reports that Tošić had been granted a work permit, and is expected that on the opening day of the January transfer window he will transfer to Manchester United.
International
On the international scene, he made his debut for the Serbia national under-21 football team on 23 March 2007, against Belgium. Four days later, against Portugal, he scored his first international goal. He also took part in Serbia's 2007 UEFA European Under-21 Football Championship campaign, in which they reached the final.
On 31 August 2007, Tošić received his first call-up to the Serbia squad for the Euro 2008 qualifier against Finland and Portugal by national team manager Javier Clemente, and made his international debut against Finland.