Discussion Starter
·
#1
·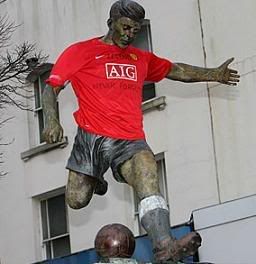 In Dudley in 1999 they erected a statue in honour of Duncan Edwards.

It was unveiled by his mother - and Sir Bobby Charlton.

It was well deserved because many people claim he is the best player to ever live.

However ...

I feel a bit uneasy with the fact that a United fan has decided to dress the statue
in a United shirt just yesterday I believe.

It's this seasons shirt too.

After all the fuss about the AIG logo on the mural at Old Trafford this kind of looks
a bit out of place to me. Maybe a retro shirt as worn by Edwards and the other
babes would have been more appropriate.

I am sure this was done in the best possible taste by the United fan. I'm sure he
means no harm by it. I'm in no way saying his actions are wrong etc etc but as
soon as I saw this statue dressed like this - it made me feel uneasy.

What about you - does it look good - or are you not happy about this ?


​