Discussion Starter
·
#1
·
Europe: Ones to watch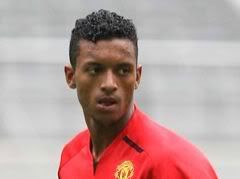 Name Nani Age 21
Club Manchester United
Who? Luis Carlos Almeida da Cunha, Nani as we know him, has impressed early on since moving to Old Trafford from Sporting Lisbon this summer.
Form He celebrated his Champions League debut last September with an exceptional goal for Sporting and followed that with his first full Portugal call-up, forcing Sir Alex to move for him a year ahead of schedule.
Experience Gained solid Champions League experience in a group that also featured Inter and Bayern Munich last term, although Sporting finished bottom.
He says "I like to play the type of football United are famous for. You look at the way Cristiano Ronaldo has grown as a player under Sir Alex. That's what I want to happen to me."
They say "He's different to Cristiano in that he can play in the middle as well as on both wings," says Sir Alex. "He's quick, has a terrific engine, and I know we're getting a very talented, flexible player."
Chance of success United have as good a chance as ever, although Nani may well require a season to settle. Mind you, they said that about Ronaldo...
Name Samir Nasri Age 20
Club Olympique de Marseille
Who? Nasri's background only fuels those pesky Zidane comparisons, though some similarities are too tempting to avoid. Like Zizou, he grew up in a poor Marseille suburb and is of Algerian descent. A club scout spotted him playing for his local team aged nine and he has graduated through the youth system, winning an Under-17 European Championship winners' medal with France.
Form He received France's Young Player of the Year award from Zidane after inspiring Marseille to their first Champions League spot for four years. Marseille's best player in their French Cup final defeat, he made his full les bleus debut in March.
Experience A wall overlooking Marseille's
port used to display a giant Adidas hoarding featuring Zidane. Now the club's fans are campaigning to see Nasri's portrait painted there.
He says "I enjoy Star Academy [the French Pop Idol], because I consider myself to be just like the people in the programme; youngsters trying to work on their talent in the hope of making it. The media has tried to change my status and claim that I'm already a star - that's not how I see it.â€
They say "We signed him and he just kept getting better,†says Marseille scout, Freddie Assden. "Every time we were in a difficult situation in a game he would be the one to save us.â€
Chance of success Marseille are back after a four-year sojourn, but a repeat of their 1993 win is unlikely.
Name Emmanuel Adebayor Age 23
Club Arsenal
Who? With Fernando Morientes as a role model, Adebayor got back on track at Monaco after rave reviews went to his head. He was bought from Metz, who spirited him away from the training academy in his birthtown of Lome, Togo.
Form Not Henry yet, but he's no mean consolation. Although sometimes frustrating, he's scored some crucial goals since joining the Gunners in January 2006, including a winner at Old Trafford and two in North London derbies, ensuring his name is sung in gusto at the Emirates.
Experience He escaped a crushing from Jose Mourinho's Porto by not playing for Monaco in the 2004 Champions League final, but featured strongly in the run-in. Fan power has carried him back into the Togo fold after a suspension in March over a row about unpaid bonuses.
He says "I need to work on my finishing, but I'm not so bad in front of goal. I'm learning loads, I have more maturity and I feel I'm getting better and better.â€
They say "Manu is the type of striker who is really nice to play with because he shows the ball well and he does the hard work. He gives Arsenal a plus because they finally have a striker who, when you kick the ball forward, will be there to shield,†says Thierry Henry.
Chance of success Arsenal appear in transition, but Adebayor has now experienced unlikely runs to the final both with the Gunners and Monaco.
Name Ricardo Quaresma Age 23
Club FC Porto
Who? A teen prodigy for hometown club Sporting Lisbon, his dream move to Barcelona was too much, too soon, and Porto came to the rescue in 2004.
Form The arrival of coach Jesualdo Ferreira last year prompted a return to his Sporting form, and Porto have been turning down bids ever since. He starred as Porto pushed Chelsea all the way in the last 16 last year.
Experience He holds the Portuguese record for assists in the league – 17 in one season…
He says "Taking chances and taking on defenders is what makes me.â€
They say Barca coach Frank Rijkaard described his game as "embroideredâ€. Agostinho Oliveira, Portugal's Under-21s coach argues he "was taught nothing†at Camp Nou.
Chance of success The odds are against a repeat of the win in 2004.
Name Diego Age 22
Club Werder Bremen
Who? The Sao Paolo-born star was half of an awesome-twosome with Robinho at Santos. While his 2004 move to Porto looked more sensible than Robinho's to Real Madrid, it didn't work out and he only began to flourish after joining Werder last year.
Form He scored 13 goals last season and seemed to set up most of the ones he didn't score. He was voted Bundesliga player of the season by readers of Kicker magazine, and played for Brazil in the Copa America.
Experience Diego has solid Champions League experience with Werder and Porto. He was handed Pele's old No.10 shirt at Santos aged just 16.
He says "There are certain qualities I have tried to add to my game. I had to play at bit faster and in tactical terms I had to be more disciplined.â€
They say "He leads the attack better than Zico,†says Emerson Leao, Diego's former manager at Santos.
Chance of success Werder would be happy to get past the first knockout round.
I agree all those players are quality especially nani
Source: Manutd.com