-zuco- said:

How would goal.com 'exclusively' know the inner

goings on of Arsenal and Barcelona?
Its true zuco
Barca close on Hleb signing
Arsenal midfielder travelling to Spain to undergo medical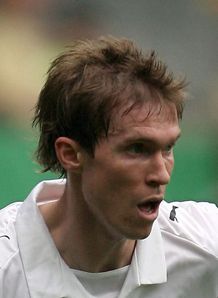 Skysports.com understands Barcelona are expected to announce the signing of Arsenal midfielder Alexander Hleb in the coming days.

Hleb's future at Emirates Stadium has been uncertain since the end of last season and he has also been linked with a move to Italian champions Inter Milan.

Barcelona have held a long-standing interest in the Belarussian and he is understood to be travelling to Spain to undergo a medical after the two clubs reportedly agreed a fee.

The 27-year-old would become Barca's fifth new signing of the summer and their second midfield acquisition after the arrival of Seydou Keita from Sevilla last month.

Earlier this week, the former Stuttgart schemer admitted it would not be easy to leave Arsenal following talks with Gunners manager Arsene Wenger.

Very grateful

"I am very grateful to Arsene Wenger," Hleb told www.tut.by. "He is the best coach of my career. And not just a coach. He is a very good man and intuitive psychologist. I very much appreciate his support,.

"I talked to him twice before the end of the season (about my future). It is also not that easy for me to leave this club, because it has become my home. I think he (Wenger) is upset, though it is better to ask him, maybe he is glad.

"In life, everything changes. I believe that there are 10 top clubs in world football, and when a couple of clubs are interested in you and offer better terms, I believe that others would have done exactly the same.

"But Arsenal is dear to me, I am grateful to Wenger for everything he has done for me.

"As an Arsenal player, I can say that there is no better club in the English Premiership."

Hleb joined Arsenal in an £11.2million deal in 2005 and he has scored 10 goals in 130 appearances for the club.