Discussion Starter
·
#1
·
Macheda was about to give up football until Fergie rescued him from 'mean' Lazio, claims Italian talent spotter
By MARK RYAN
Macheda was about to give up football until Fergie 'rescued' him from ' Lazio | Mail Online
The man who discovered Federico Macheda, the new poster boy of Old Trafford, claimed last night that the teenager who has now rescued Manchester United's title bid with winning goals in successive matches could have been lost to football had Sir Alex Ferguson not signed him.
Volfango Patarca, who in almost 25 years of service to Lazio's youth system also spotted such talents as Paolo Di Canio and Alessandro Nesta, has told Macheda's former club to stop blaming United for what he claimed was their own poor handling of the player.
That strike also prompted Lazio — under pressure for losing the jewel of their youth set-up — to attack United over their signing of the teenager shortly after his 16th birthday.
But Patarca insisted that Macheda could not have turned down a move to Old Trafford because Lazio had failed to support his impoverished family.
Macheda, known since childhood as Kiko, comes from Ponte di Nona, a run-down area to the east of Rome and a world away from Lazio's Formello training ground to the north of the Italian capital.
His parents struggled just to pay Macheda's travelling costs for the daily 100-mile round trip to training but Patarca, 64, claims Lazio snubbed requests from the player's
father, Pasquale, for help.
'Three times Pasquale asked Lazio for financial help, because it was so tough trying to get Kiko to the training ground every day,' said Patarca. 'It cost money and time away
from work. Pasquale asked for the club to fix him up with a job. I believe as little as
500 euros a month could have solved the problem.
'But my understanding is that Lazio only offered to help once they realised that Manchester United were interested in Federico.
'That was too late because they hadn't seemed to believe in him enough before. So thank God for Manchester United. What would have happened if they hadn't been interested and Kiko's parents had been left with the problem of trying to find the time
and money to take the boy such a long way to training every day?
'Without Manchester United, I believe he would have had to stop playing. He would have had to finish with football and would have been lost to the game. Instead, he is in
England, where United have helped him to mature far more quickly than he would have done in Italy.
'You cannot go wrong with Sir Alex Ferguson. Lazio should just be quiet and learn from their mistakes.'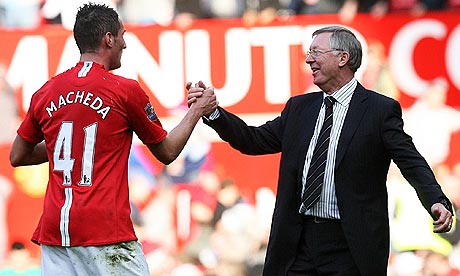 It was in Ponte di Nona that six-year-old Macheda played football in the street and car park outside his flat with the older boys from his graffitti-covered apartment block.
One of them, 20-year-old Patrizio Antonelli, remembers Kiko well.
'He was three years younger than us but still the best,' he said. Macheda's father is keen for his son to keep his feet on the ground and he persuaded him to auction his prized United shirt from his extraordinary debut to raise money for victims of the L'Aquila earthquake.
Patarca explained: 'Pasquale told me the week wasn't about his son any more, it's about the kids who really need help in L'Aquila.'