Discussion Starter
·
#1
·
As we approach the January silly season window, I thought it would be good to keep things nice and tidy in one thread.
Please use this to post Transfer gossip in the January transfer window.
Fanks!
Zola Hints He Wants Juventus Star Giovinco At West Ham
http://www.goal.com/en/news/735/wes...s-he-wants-juventus-star-giovinco-at-west-ham
Contrary to reports over the weekend, there are now suggestions the Hammers boss does indeed have his eye on Juve's prodical son.
Sebastian Giovinco has risen to prominence over the past 18 months and is now considered one of the best young talents in European football. Having loaned him out to Empoli last season, his club, Juventus, continue to treat the playmaker with kid gloves and are not over-exposing him to first team football.
However, this softly-softly approach does not play well with Sebastian himself, who has hinted in none-too-subtle terms that he may be willing to go elsewhere to gain a starting place in a line-up.
There have long been rumours suggesting the 21-year-old could be lured to the likes of Arsenal, with Juventus sporting director Alessio Secco thought to be eager to cash in on the youngster's talents in order to restrengthen a squad still feeling the effects of Calciopoli, a scandal that saw the club lose a whole host of world class players.
Despite the cooling of those rumours, there is still talk of a potential loan in the press, though the club remain adamant that their starlet will be going nowhere.
Since Gianfranco Zola's appointment as West Ham United boss, the east London club have been linked with a number of Italians, including Giovinco, whom Zola coached for the Italy Under-21s.
Over the weekend, Zola was quoted as saying that though he admires the player, he realises that Juventus would not put themselves in a position to let him leave. However, The Mirror have quoted him as saying, "He's one of those players who can change a game. So I might be interested."
-- Sulmaan Ahmad, Goal.com
- This kid is great and is the only Juve player I'd want at Man Utd.
I say let him go to West Ham and if he plays well against Man Utd, Fergie can cnap him up in the summer
Mijatovic Makes Huntelaar A Priority
http://www.goal.com/en/news/1705/real-madrid/2008/12/01/990720/mijatovic-makes-huntelaar-a-priority
The Madrid director has set his sights on signing the Dutch striker, but it will not be easy as Ajax are not keen to see their main asset leave in the winter transfer window.
Predrag Mijatovic is prepared to remain patient in his quest to prise Klaas-Jan Huntelaar away from Ajax despite pressure mounting for news of a new signing to be made.
Los Merengues' sporting director believes that the Dutch goalscorer is the player the club needs to replace Ruud van Nistelrooy and has told the board that all other options can wait.
Ajax are insisting that the 25-year-old will not leave in the winter transfer window and even in the summer they will look to ensure that they receive the huge valuation they have of Huntelaar.
Madrid's insistence on focussing on one player in the summer caused their planning to be unbalanced as they chased Cristiano Ronaldo and Mijaotvic will have to be careful the same does not happen again.
Huntelaar has stated that he would welcome a move to Spain, while his compatriots at Madrid, including Wesley Sneijder, have said the club should do all they can to sign him. Furthermore, he will be eligible to take part in the Champions League.
The Spanish giants were keen to add to their forward line before Van Nistelrooy was ruled out for the season, but his absence has made the need to a new player a priority.
President Ramón Calderón has stated that he will sign 'two Higuaíns', in reference to the arrival of Gonzalo in the winter transfer window at the start of 2007.
Getafe supremo Ãngel Torres warned his counterpart at the Bernbabéu this weekend that importing a striker in January has its risks because they will need time to adapt while Madrid want someone to perform straight away.
Lucas Brown, Goal.com

Whelan hints at Heskey sale
http://www.skysports.com/story/0,19528,11661_4574804,00.html
Striker could be sold in January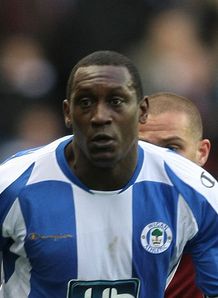 Wigan chairman Dave Whelan has indicated he could sell Emile Heskey in January rather than risk losing him for nothing.
Heskey's current contract at the JJB Stadium expires at the end of the season and he could leave on a free transfer.
Wigan are keen to keep the England international, but the player insists he is no rush to make a decision on his future.
Former club Liverpool, along with Aston Villa and Tottenham, are rumoured to be waiting in the wings to sign the 30-year-old if he becomes available.
Whelan insists he does not want to lose Heskey for nothing and could sell him when the transfer window reopens in January if he fails to agree a new deal.
"Emile is out of contract in the summer, but he doesn't want to sign a new one at the moment," said Whelan.
"It could cost us two, three or four million if that goes on to next summer, so we'll have to see what January brings."