Discussion Starter
·
#1
·
On the same wavelength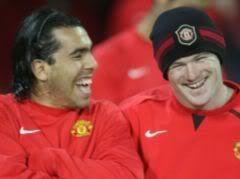 Wayne Rooney believes his blossoming partnership with Carlos Tevez is down to
telepathy.
Doubts were cast over whether the duo could play together when Tevez first
joined the club with pundits believing them to be too similar. But 15 goals
between them in the 11 games they have started together has put paid to that
theory.
Rooney admits the pair are not regular communicators because of the fact Tevez
speaks little English, leaving them to rely simply on instinct and eye contact.
"We don't talk to each other very much because we don't speak the same
language, but that doesn't matter when you are playing with a great talent like
Carlos," explained Rooney. "We do a lot of hard work together on the training
pitch, but the understanding between us seems to be very natural anyway.
"It's all about eye contact. It's just a glance here or a nod there and we
instinctively know what the other one is going to do and when and where we
want the ball to be played. It's a case of playing the game as you see it and
when it comes off it looks very good. The goal Carlos scored against
Middlesbrough recently was typical of that."
Tevez netted the Reds' crucial winner at Anfield on Sunday thanks to Rooney's
set-up. And the England striker is convinced their partnership will continue to go
from strength to strength.
"We've both still got a lot to learn, but the partnership will only get better with
the more work we put in on the training ground and the more we play together,"
he added.
wwwmanutd.com