Discussion Starter
·
#1
·
Should Manchester United win the Champions League final on Wednesday night, the manager Sir Alex Ferguson, famed for his 'hair dryer' treatment of players and his awkward victory jig, will join the pantheon of football's finest coaches.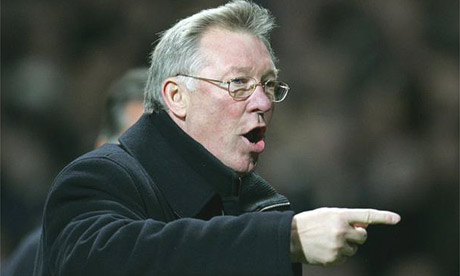 *I've told you before, I wanted MARMITE sandwiches!!"
Should Manchester United score a goal on Wednesday night in the Champions League final against Chelsea, the massive global television audience is likely to witness one of the more captivating rituals that professional football has to offer. A grey-haired man with spectacles and a mouthful of gum will lurch forward in his seat, his head ducking and shifting as if he were a boxer. He'll then make two, or possibly three, attempts to get to his feet and, if the goal is crucial, he'll stick both arms in the air and perform the kind of unco-ordinated jig more normally associated with eccentric family members at a bibulous wedding reception.
It's hard at such moments to believe that this 66-year-old former factory worker and publican can strike fear in the hearts of athletic footballers. But that is what Alex Ferguson does and has been doing for the past 34 years. Of course, it's not his only talent. For the most successful football manager in British history also has a canny tactical mind, a willingness to make tough decisions and an apparently bottomless appetite for success, among many other managerial attributes.
Yet it's that ability to inspire fear and, from it, respect that has been a consistent feature of Ferguson's extraordinary career. At United, his notorious blasts at players who displeased him became known as the 'hair dryer' treatment, so-called for the tonsorially stiffening effect of the Glaswegian's close-range, expletive-filled tirades.
A combative centre forward with several Scottish clubs, including Rangers, the team he supported as a boy, Ferguson became manager of East Stirlingshire at the youthful age of 32. As Bobby McCulley, one of the club's strikers, later recalled: 'He terrified us. I'd never been afraid of anyone before but he was such a terrifying bogey-man from the start.'
McCulley's team-mate Jim Meakin remembered that Ferguson would get very wound up during the game. 'He would come in and kick the half-time tray all over the place. When he was talking, none of us dared open our mouth.'
The tray and much else in the dressing room, including a medical treatment table, have been familiar to Ferguson's boot ever since, as David Beckham can testify. After losing an FA cup match at home to arch rivals Arsenal, Ferguson kicked a football boot that flew up and hit Beckham above his left eye. Only the intervention of the other players prevented a fist fight. According to Beckham, his wife Victoria threatened to confront Ferguson but he stopped her on the grounds that 'I wouldn't want to get into a scrap with my wife'. Fergie v Posh: that match could have sold out Old Trafford.
The fiery outbursts aside, it's a long way from the bottom of the Scottish Second Division in 1974 to the top of the English Premiership in 2008. For the game has changed beyond recognition. Perhaps the most dramatic development has been the shift in player power. In the Seventies, the manager was king, largely controlling the fate of his players. Nowadays, the position is almost reversed. Big players are effectively free agents, able to move club almost at will or undermine the manager's authority.
Yet few have dared challenge Ferguson's leadership and the list of major players who have left Manchester United against Ferguson's wishes is vanishingly small. It could, however, soon been one larger. United's greatest player, Cristiano Ronaldo, has hinted that he may leave the club to go to Spain. It will take all of Ferguson's considerable powers of persuasion to avert that outcome. Though Ronaldo has shown his mettle in front of baying crowd of tens of thousands, saying no to Ferguson is of a different order of mental and moral fortitude.
By contrast, there are many who have fallen foul of the manager and soon found themselves elsewhere, regardless of their stature. The all-star ex-Man Utd XI includes such luminaries as Beckham, Paul Ince, Jaap Stam, Roy Keane and Ruud van Nistelrooy.
It was after showing Stam the door in 2001 that the suggestion that Ferguson had 'lost it' began to gain momentum. He had announced that he would retire at the end of that season and then changed his mind. United ended the campaign without a trophy and though they won the Premiership again the following year, a comparatively fallow period gripped the club. Some newspapers suggested that it was a union of yesterday's men when Ferguson joined Tony Blair on an election podium in 2005.
Ferguson had known such times before. His first years at United were close to disastrous. Having taken unfashionable Aberdeen to Scottish and European glory, he was expected to transform United's long record of underachievement. But in 1990, a banner was rolled out at Old Trafford: 'Three years of excuses and it's still crap. Ta ra Fergie.'
He stayed, though, got rid of the drinking culture, nurtured a generation of homegrown talent and often mercurial foreign players such as Eric Cantona and set off on a run of domestic domination. It peaked in 1999 when United won 'the treble', a unique achievement featuring Ferguson's only European Champions League trophy.
Now Ferguson has once again defied his critics and built another formidable team and with it the opportunity to gain the second European title that will cement his name in the pantheon of international greats. If he succeeds, it will be in no small way down to his unyielding attitude. In his autobiography, Managing my Life, he writes that he has 'always craved the pressure of responsibility, of being asked to make things happen on the football field'.
But it would be wrong to characterise the man as some kind of football monomaniac. It's one of the ironies of our national insecurity that Arsène Wenger is portrayed as a Continental sophisticate, a man of intellectual hinterland, though all the evidence is that he eats, sleeps and lives football. Whereas Ferguson, who is often seen as an old-school ranting obsessive, takes an active interest in fine wine, serious books and politics.
Born in Govan, the shipbuilding district of Glasgow, Ferguson sets great store by his working-class roots. His house in Wilmslow is named Fairfields after the shipyard at which his parents worked. And two of his mates from nursery remain among his closest friends. Though it's not unusual these days to be a multimillionaire Labour supporter, Ferguson, a former shop steward, is also a union man, as well as a staunch opponent of the religious sectarianism that has often scarred life in Glasgow.
A Protestant, he is, like his father before him, married to a Catholic. He spotted Cathy Holding in 1963 at a strike meeting while he was working as a toolmaker and playing part-time for St Johnstone. His face was encased in plaster at the time, owing to a fractured cheekbone, forehead and broken nose, courtesy of a clash with a centre half in a reserve game against Airdrie. But Cathy obviously wasn't deterred. They have three boys, one of whom, Jason, worked as a football agent for some United players, quitting shortly after a Panorama investigation suggested that there was a conflict of interests.
Along with loyalty, Ferguson puts a high premium on family. It was the reason he cited for retiring - to spend more time with his wife and grandchildren - and it was the reason he gave for staying: Cathy told him she didn't want him round the house. 'That wife of mine just bullies me,' he joked recently about why he plans to continue managing United. 'She kicks me out the door at 7am. I will not risk her wrath.'
There are signs, as he moves deeper into his seventh decade, that Ferguson is mellowing. He's eased back on the psychological games he used to like to play with other managers and he's announced that his longest-serving players, Ryan Giggs and Paul Scholes, will play in the final, a decision that borders on the sentimental. His after-match interviews with Sky (he refuses to speak to the BBC in protest at radio commentator Alan Green) have grown almost avuncular in their manner, at least by comparison with the glowering standoffs he used to produce for the cameras. But all of that may just be because United are doing well.
It is even more difficult to imagine United without Ferguson than it is to remember them before he arrived. Recently, he made sure some of his younger players found out something of the club's pre-Ferguson era. He called in his friend and club director, Bobby Charlton, to tell the team about Matt Busby, the club's other managerial Scots hero, and the Munich air crash.
It was 50 years ago that Busby and Charlton nearly lost their lives and eight United players and three staff died. And 40 years ago, Busby and Charlton lifted United's first European Cup. Wednesday night will be poignant with history, though Ferguson, for all his respect for tradition, will be intent less on honouring it than making it.
And if that happens, we shall no doubt see the most uninhibited display of that signature jig yet witnessed in public. But if it should not? Well, let's just hope there are no loose objects in the dressing room. Long article ain't it?: Here's the L-Down on Ferguson...