Discussion Starter
·
#1
·
Paddy Crerand
Anyone who watches MUTV will know him and will also know how bias he is towards United. Haha..I love him to the core and that too only by just watching him on MUTV. For those who might not know back then, he is as similar as Michael Carrick style of play and he has a very very terrible temper..well you can say close to Roy Keane..
As he grew with ages, he tend to get funnier everytime and most importantly a very humble figure for someone as famous as him. If i were to be given a chance to meet SAF or Paddy, i would definitely opt for Paddy, that is how much love i have for this guy. I will try to compile as many info as i can about him for the benefits of us all cause i think, legends like him need to be recognised.
Name:
Patrick Timothy Crerand
Position:
Half-Back
Birthdate:
19/03/1939
Birthplace:
Glasgow, Scotland
Height:
5' 10"
Weight:
12st 1lbs
Transferred from Glasgow Celtic, 02/1963, £56,000
Previous clubs:
Glasgow Celtic
Full International:
Scotland
Debut for Manchester United:
23/02/1962 v Blackpool (H) 1-1 (League Division One)
Farewell to United:
Retired from game, 1971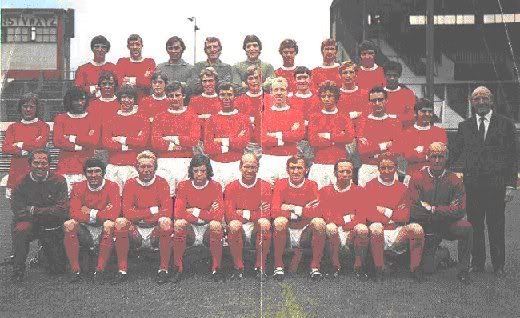 Manchester United 1970-71
Back Row, left to right: Steve James, Alan Gowling, Jimmy Rimmer, Alex Stepney, John Connaughton, Brian Kidd, Paul Edwards, Willie Watson.
Third row: Tommy O'Neil, Tony Young, Kevin Lewis, Brian Greenhoff, Francis Burns, Ian Donald, Tony Whelan.
Second row: John Fitzpatrick, George Best, Eric Young, Bill Fairhurst, David Sadler, Ian Ure, Damien Ferguson, John Aston, Laurie Millerchip.
Front row: Wilf McGuiness (Manager), Tony Dunne, Denis Law, Willie Morgan, Bobby Charlton,
Pat Crerand
, Nobby Stiles, Carlo Sartori, Jack Crompton (Trainer), Sir Matt Busby CBE (General Manager).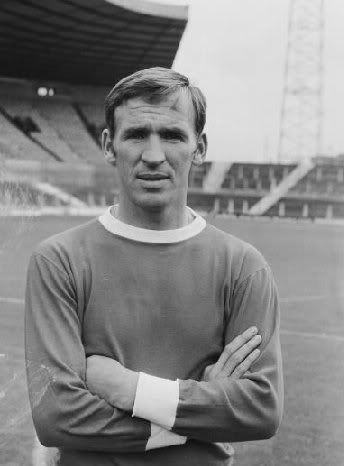 Born In Glasgow on 19th February 1939, Pat was signed for United from Celtic in 1963. He quickly became a firm fans favourite with the fans for his uncompromising style of play. He forged a bond with the fans, which is still strong till today. Although not viewed as the quickest of players, he managed to rewrite all the perceived rules by which players were judged then, by using his brain, as well as the footballing talents Sir Matt Busby recognised, when he signed the young Paddy for the reds. No one could ever doubt the determination or the effort that Paddy put into his games, but what is not so well known, is the thought that went behind his play on & off the pitch.
If ever a man made a mockery of the traditional standards by which great footballers are judged it was Paddy Crerand. Indeed, the Scottish international wing-half variously described as slow, ungainly, a bad header and a poor goal-scorer - veritably ridiculed the rulebook and wrote his own rich volume of Old Trafford folklore.
It's true he was not the most rapid of Red Devils.He studied the game in a way that is usual nowadays, but very rare in his time. His vision, skill & sublime passing skills made him an integral part of the midfield, which include Nobby Stiles & Bobby Charlton. His honours with United & Scotland were numerous, including two League Championship, an FA Cup and a European Cup. He also has sixteen Scotland caps to his credit.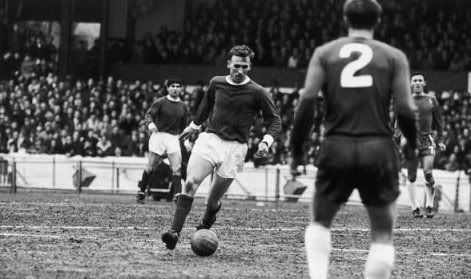 Paddy, who was to have a brief spell as assistant manager at Old Trafford under Tommy Docherty in 1974, thought deeply about his game. He made it his business to know the opposition and was more aware than most about what was going on around him. An apt illustration is an incident in the 1963 FA Cup Final against Leicester City, the game which signalled the Reds' return as a major power after Munich.
Though still allegedly adjusting to English football, United's recent £53,000 signing from Celtic had done enough homework to know that Gordon Banks liked to throw the ball to Scottish schemer Davie Gibson, the springboard of so many attacks. Seeing Banks in possession and noting that Gibson was free, Paddy pounced while others idled. He beat his countryman to the ball, threaded a pass through a crowded penalty area and Denis Law did the rest. It was a vivid cameo that captured the very essence of vintage Crerand. Of course, there were days when inspiration deserted him, but in such games he would never hide from the ball and would always continue to probe.
An extrovert Glaswegian, raised in the Gorbals, Paddy allowed his fervour to get the better of him at times and occasionally he landed in trouble with referees. Indeed, it's been said that he never moved so fast as when headed for a melee 40 yards away! But his fiery nature was as much a part of Crerand the player as Crerand the man. It would be hard to find a United follower who would have wanted him any other way.
Although not a prolific goal scorer, his assists were legion. He will forever enshrined in the hearts of the Old Trafford faithful, not least because he embodies the spirit of the club. A man who never knew when to give up, one who could mix it with the best & who, along with his beloved Celtic, has Manchester United engraved on his heart.