Discussion Starter
·
#1
·
Rio best in the world - Rooney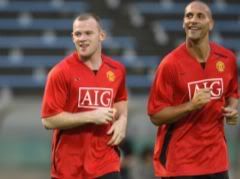 Wayne Rooney says United's title hopes are enhanced because the Reds possess the best defender in the world: Rio Ferdinand.
Rio was outstanding at Anfield on Sunday as United took all three points from the clash with title rivals Liverpool. The hallmark of the victory was the Reds' defensive solidarity, with Ferdinand its central pillar.
"There's great rivalry between United and Liverpool, so it was a big result for us, especially with how tight the league is,†Rooney said in an interview with MUTV.
"We knew that if we got three points then it would put a bit of space between us and Liverpool. A draw would perhaps have been a fair result, but we defended really well and managed to get the goal.
"Vida and Rio were brilliant for us,†he added. "I think Rio is probably the best defender in the world at the moment. He's been doing really well for us. The whole defence and the whole team is defending well.â€
Rooney was instrumental in United's goal two minutes before the break, having spotted a weakness in Liverpool's armour. Ryan Giggs played a corner to the edge of the box for Rooney, whose shot was turned in by Carlos Tevez. However, Wayne says it was more quick-thinking than a training ground ploy.
"It's not something we worked on,†he admitted. "We saw how they set up on an earlier corner, with everyone in the box. So I spoke with Giggsy and we decided to play the next corner short. I had a shot and luckily Carlos was in the right place to finish it off.â€
Source manutd.com