Discussion Starter
·
#1
·
http://www.guardian.co.uk/sport/blog/2009/jan/15/rooney-berbatov-tevez-manchester-united
Wayne Rooney's injury gives the Berbatov-Tevez pairing a chance to strut its stuff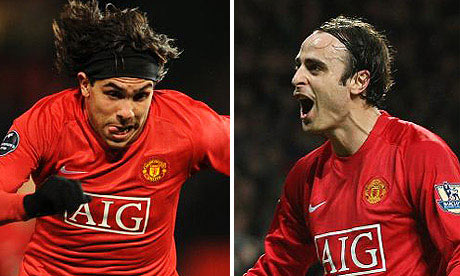 Norman Whiteside was never quite "the new George Best" while the headlines labelling Terry Venables as "the new *Duncan Edwards" seem more ridiculous now than they did in 1958. However, *Manchester United's immediate future rests on two men labelled "the new *Cantona". Sir Alex Ferguson has compared at least four of his strikers to the mercurial Frenchman but this awkward mantle has been one the United manager has consistently attempted to place on the shoulders of Dimitar Berbatov and Carlos Tevez.
With Wayne Rooney likely to be absent for the best part of a month, much depends on how well these two Cantonas start together – something they have done only half-a-dozen times. Rooney will not miss any stand-out fixtures – although Upton Park, where United go on 8 February, is a venue that has inflicted more pain on Ferguson than almost any other. But, as Chelsea discovered when taking on Fulham and Southend without their suspended captain John Terry, lesser fixtures are sometimes the most dangerous.
The chances that came their way against Wigan on Wednesday night summed up the strikers' contrasting styles. Tevez, put clean through, pounded towards the keeper, Chris Kirkland, his face contorted by effort and determination, and ended up flat on his stomach. Berbatov struck languidly from the edge of the area with the outside of his boot and the ball drifted just past the post. It was like comparing a bludgeon from Ian Botham's broadsword bat with a David Gower cover drive. It might be a perfect combination.
Berbatov is not as loved as Tevez and Rooney at Old Trafford, perhaps because he does not hurl himself into a game as they do – although, like his one-time team-mate at Tottenham, Robbie Keane, the Bulgarian is a forward whose effectiveness improves as a season nears its business phase. Of the 52 goals he scored in his last two full seasons, 38 came after the beginning of December.
"When you pay a lot of money for a player, he invariably comes underclose scrutiny," Ferguson said. "It happened to Juan Veron and Rio Ferdinand, and *Dimitar has also suffered the impatience of people when a new guy makes a big move. At Tottenham he orchestrated most of their play and, if at times he has looked a bit isolated, it was because our players needed to adjust to him as much as he needed to learn our ways. I have a feeling we are about to see the best of Berbatov."
Tevez is more obviously like Cantona, not just in his rapport with the Stretford End but in his habit of scoring crucial, often desperately late, goals. This season is one that is already carrying echoes of United's epic pursuit of Newcastle in 1995-96. The Liverpool side they chase have, like Kevin Keegan's team, precious little collective experience of winning championships, a home crowd whose passion is not always helpful and are led by a manager Ferguson can get at mentally.
In 1996 Manchester United won the title with seven 1-0 victories in the closing three months of the campaign and in five of those matches it was Cantona who scored the decisive goal. One-nil victories are becoming United's foundation for this campaign – they have been outscored by five Premier League clubs this season.
Tevez's goal at Stoke on Boxing Day was typical of his contribution last season in that it was late and decisive. At Blackburn and Spurs last year, he salvaged a draw at the death; against Liverpool and Birmingham his was the only goal. Berbatov, apart from his goal in the 1-0 over Middlesbrough, tends to score in landslide wins.
Part of Cantona's appeal was his sense of separateness and there is something of that about Tevez, particularly his refusal to have plastic surgery for the scars he sustained when boiling water was knocked over him as a child. "They make me who I am," he remarked.
Critically, Ferguson said Cantona was curiously short of self-confidence. "He needed nourishing," Ferguson recalled. This does not appear to apply to Tevez, who has seemed bewildered by United's inability to offer him a contract with his loan deal expiring inside six months.
Last summer, the chief executive David Gill claimed a new contract for the Argentine was a priority but in recent interviews, Tevez suggested this had changed. United have five months to nourish him or see him go with the same suddenness as that with which Cantona took his leave.