He hasn't been sacked at all.
How confusing can you get.
It took them a long time to release a statement, but they did and he hasn't been sacked. Although we haven't heard from "King Kev" yet.
What a circus of a club
==========================================================
Sky Sports
Magpies deny Keegan sacking
Magpies move to clear up speculation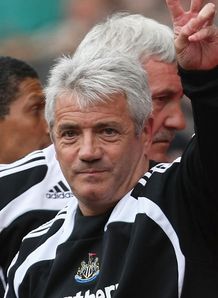 Newcastle have announced that they have not sacked Kevin Keegan and they want him to remain as manager.
Keegan's future has been the subject of widespread speculation after reports emerged on Tuesday that Keegan had left the club.
The rumours about Keegan's future saw fans stage angry protests outside St James' Park with supporters calling for the head of owner Mike Ashley and the club's board.
However, the club have now revealed that they have not dispensed with Keegan's services and that the 57-year-old remains part of their plans.
Meetings
The club statement on their official website read: "Newcastle United can confirm that meetings between members of the Board and manager Kevin Keegan were held both yesterday and today.
"Kevin has raised a number of issues and those have been discussed with him.
"The club wants to keep progressing with its long-term strategy and would like to stress that Kevin is extremely important, both now and in the future.
"Newcastle United values the effort and commitment shown by Kevin since his return to St. James' Park and wants him to continue to play an instrumental role as manager of the club.
"For the avoidance of doubt the club has not sacked Kevin Keegan as manager."
However, Keegan's future remains shrouded in doubt with the former England boss remaining silent on his position.