Discussion Starter
·
#1
·
1. George Best

George Best was born in Belfast on 22nd May 1946. He died on 25th November 2005, aged 59. Sadly his life was blighted by his own celebrity status and he succumbed to drinking. He made his debut on 14th October 1963 v West Brom at Old Trafford. Overall he played 470 games and scored 179 goals. Many of which were magical solo efforts and equally many very important winners. His best haul was 6 against Northampton in an FA Cup game. In 1968 he was crowned European Footballer of the Year. His solo effort in extra time against Benfica in the 1968 European Cup Final will long be remembered as the goal that set United up for a memorable 4-1 win.
2. Bobby Charlton

Bobby was born in Ashington, Northumberland on 11th October 1937. A member of the world famous Busby Babes, he survived the Munich aircrash to become a leading world footballer for both Manchester United and England. Charlton still holds the goals scoring record for England with 49 goals. His record appearance for United is 757, but, at the time of writing, Ryan Giggs is closing on this formaidable achievement.
His brother Jack played for Leeds United and later managed Eire. The Charlton's are related to the famous Newcastle football family, the Milburns. Bobby signed for United in 1953 (debut in 1956 v Charlton (H)) and officially played as a midfielder.
Bobby scored twice in the European Cup Final of 1968 and both he and his brother Jack played alongside each other in the 1966 World Cup Final. Now a director at the club he has served for over 50 years. The Bobby Chalrton Soccer School takes place every summer and in one such, a 12 year old was awarded for his skills, his name was David Beckham.
3. Ole Gunnar Solskjaer.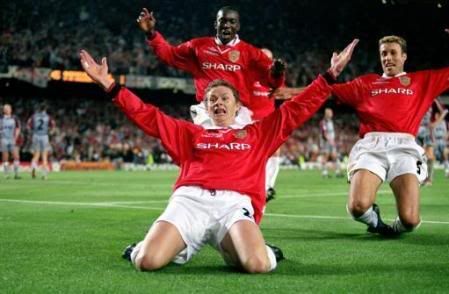 Who can forget that goal! Champions League Final in Barcelona in 1999 cementing a glorious never before achieved, treble of League, FA cup, and Champions League. At the time of writing this he is about to honoured by the King of Norway with a Knighthood. Ole hails from Norway where he was born, in Kristiansand, on 26th February 1973. He made his debut from the bench (and scored) for United in 1996 against Blackburn at Old Trafford. Little did we know what was to unfold before our very eyes. In 216 appearances for United he netted 126 goals. 4 of these came when he appeared as a second half sub away at Notts Forest, getting all 4 in very quick time. Through injury Ole has retired from actively playing and is now working with the backroom staff at United, helping the young strikers prove their own skills.
4. Duncan Edwards.

Duncan was one of the famous Busby Babes and already an England regular. His life was cut short following the Munich air crash. He died in hospital 2 weeks after the crash, aged 21.
Born in Dudley on 1st October 1936. Matt Busby himself knocked on his door and asked him to sign for United although there was enormous interest from elsewhere. He was rated above Law, Charlton and Best which is a fair indication of the huge talent this player had. Fans and foes rated him the best they had ever seen. He made his debut for United on 4th April 1953, aged 16, v Cardiff at Old Trafford. Rated nowadays as a midfielder his defensive work was inspiring. He played only 177 games for United, scoring 21 goals. In his 18 games for England he scored 5 goals. [FONT=Arial,Helvetica][SIZE=-1]The great Bobby Charlton said "Duncan Edwards was the only player that made me feel inferior"[/SIZE][/FONT]