Discussion Starter
·
#1
·
Vidic eyes Kyiv double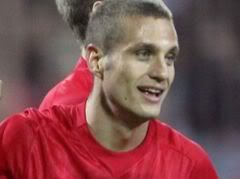 Nemanja Vidic says qualification to the Champions League knockout stages is within United's grasp, but says the Reds must finish the job against Dynamo Kyiv at Old Trafford in two weeks' time.
The 4-2 win in Kyiv continues United's 100 per cent start in Group F, and one more victory would virtually guarantee the Reds' passage past the group stages.
"It is important to beat Dynamo Kyiv at home," said Vidic. "Whenever we are at home, it is important to win. If we win that game I think we will be there. Then the group will be finished before the end.
"We have nine points now, so we can be more relaxed in the next couple of games. It was nice to score so many goals in Kyiv, and we had the chances to score even more. The forwards did very well, but most importantly we got the three points."
Despite being hampered by a flurry of injuries, goals have been the central them of the Reds' last three matches, at home and abroad.
Another four in Kyiv takes United to 12 in three games, with even Rio Ferdinand now having claimed two goals in two games.
"If Rio keeps going like this, he will finish up as top scorer," Vidic joked. "He has done brilliantly and it's always good to see defenders score.
"It has clicked for us in terms of scoring goals. We have got four away from home in the Champions League, we have to be happy with that.
"But we could have scored more. We still created chances. Even after we scored, we didn't just sit back and defend. We wanted to play good football and score more goals. That is the way we play."
The Serbian defender, who has earned a reputation himself for scoring goals, didn't go up for corners during his first match back after sustaining concussion in the win over Wigan. And after coming through the Kyiv encounter with no problems, he will soon be looking to challenge his defensive partner in the scoring stakes.
"I stayed back at corners because of the concussion. It was my first game back and I wanted to see how I felt. I am sure I will go up for the corners in our next match. I feel okay now and ready for our next game."
Source manutd.com