Discussion Starter
·
#1
·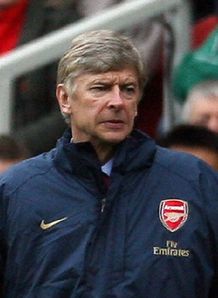 Sky Sports: Arsenal manager Arsene Wenger feels that his side are treated unfairly by top flight match officials.

He points to the Gunners last outing, away at Birmingham, as the perfect example of how his players are routinely punished for the slightest misdemeanour, while the opposition are granted considerable leeway.

The Premier League leaders saw a strong penalty shout turned down, before a dubious late spot-kick given against them allowed the Blues to salvage a point in a 2-2 draw.

Wenger insists that these decisions are just the latest in three-year vendetta against the Gunners which has seen them become the most fouled side in the top flight, but also the most punished.

Problem

"The basic problem in this league is that for the past three years we are the team which has committed less fouls than any other team, the team who is fouled more than any other team, and the team who is punished more than any other team," Wenger moaned.

"It's not a suspicion, I just look at facts.

"Facts are facts. Every four fouls, Arsenal gets a yellow card and every nine fouls some other teams get yellow cards.

"The numbers are available for everybody to see."

Facts

In fact, not all of Wenger's numbers stack up. While they are the side which has committed the fewest fouls in the last three years, it is actually Everton and Manchester United who suffer most at the hands of the opposition.

However, that has not stopped the Gunners boss from further condemning the attitude of some of the other teams his side come up against.

"We want to try to play football and bring the good things out of the game," he said.

"Football is fantastic, and can be beautiful and unite the world. That is the side we try to get out of our game.

Passion

"There are a lot of things I love here, the passion, the commitment. I do not want England to lose that, because that is above every other country.

"But it is in the hands of the referee to protect.

"I look at my team, I take responsibility when I have to, but you cannot say that Arsene doesn't try to play football and that Arsene plays to commit fouls.

"We have been punished more than anybody else.

Desire

"I'm long enough in the game to know what happens in the dressing rooms before games but it is not the right moment to talk about that.

"At some stage, when I'm not in the job any more, I will. I ask my teams to play football and what other managers do is their responsibility.

"We never play with hate, we play with desire to win. That's the way we will always go out on to a football pitch. If you hear of one player in my life that I have asked to kick somebody I would like you to introduce him to me."